Vanessa Hudgens Auditions for Twilight Sequel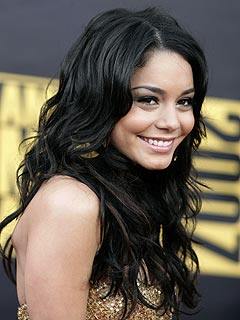 Now here's a role Vanessa Hudgens would like to sink her teeth into.

The High School Musical star has auditioned for the part of werewolf Leah Clearwater in the Twilight sequel New Moon, according to Ashley Green, who played Alice in Twilight.

"I think she'd be great," Greene tells MTV.

As Leah, Hudgens, 20, would be a foil to Taylor Lautner, who will reprise his role as werewolf Jacob Black.

In the Stephenie Meyer novels, Leah is her pack's lone female werewolf – and a jilted one, at that. Unlike Hudgens's Gabriella in HSM, Leah experiences heartbreak, being ditched by classmate (and fellow werewolf) Sam Uley.



No. no no no... HOLY INCOGNITO! New Moon is gonna suck if she's going to be in it! its not like the casting already sucked! (despite my obsession for TTT, some of the actors in it dont fit well. other than Rob of course xD)
i mean, i think they can find a waayyy better good-looking Mike Newton. not to mention Jessica. she looks like a pathetic mediocre. HEHE no offense though.

i imagined Leah you know. . . stronger. she has to have to tough attitude and mentally fit. look at V. she's so. . lembik. har har. and her voice O.O
Leah doesnt sound like a chipmunk okay. and i thought Leah is supposed to be more matured-looking since she was Sam's ex. haha call me weird, but i'm just being honest.


i......still.........cant.............................imagine...............a really lembik girl......being a ferocious..........vampire-killing..........werewolf.


SHE'S JUST TOO WRONG FOR THE CHARACTER.


sigh. i've got homeworks to cram on. later dudes.