hey. its me. again.

i want to watch Angus, Thongs and Perfect Snogging as recommended by females of the like



i want to watch Twilight again. for some reasons.



i want to have more verdant ideas. i think i need to sit on my thinking chair. allocated in the toilet. ehem ehem.



i want a new story book. A.S.A.P. its not the perfect time to read these sorta books but i want one. i just do. and WHERE IS MY AMAZING GRACE??!!



for coolios who supports underground cinema and have a totally different perspective on seeing crap as art, i suggest you watch this movie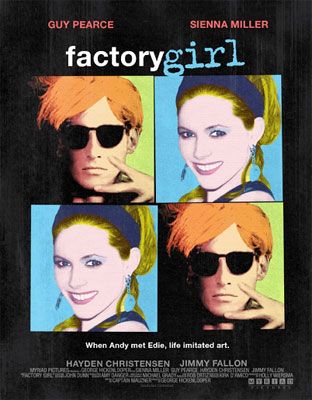 well...not entirely crap. hehe minta maaf terlebih dahulu.

we get to see


Hayden dude. more known as Anakin Skywalker. yeah, much cooler. haha

Factory Girl, tells a life of a poor disrupted rich girl named Edie Sedgwick. She took off from art school cambridge to live in NY. Enter, Chick Wein. He took Edie under his wing and introduce her into the Manhattan's social crowd. There she met Andy Warhol.

The story developed into the life in the Factory - a studio of Andy Warhol - and the making of a Superstar - Edie Sedgwick. The confused relationship between Andy Warhol and Edie Sedgwick. The drug addiction life of Edie. The smitten Edie to a famous folk singer --the Musician. And The dysfunctional aristocrat family of the Sedgwicks.

Although the Factory Girl clearly giving a unpleasant reputation for Bob Dylan and especially, Andy Warhol. However, if that's what really happened or partially happened in the past or in the life of Edie Sedgwick, why criticized and refuse to believe?

Is it the bigger their names, the more pretentious the life they're living in?
Edie Sedgwick's laugh says it all.
"fluttery debutante laugh, that mixture of Warholian cool and little-girl terror.".


the real Andy Warhol and Edie Sedgwick.
sadly, i didnt catch the ending. big bummer. this moobie is freaking awesome. check it out yaw

i want a new hobby.

i want one book in particular *hint hint*.
Midnight Sun. finished the whole saga. but incomplete without the grand finale. hope its not the last one though. mengada haha.

oh, and i want to delete my myspace. toodles <3